Why Martin's Taxi from Prague to Vilshofen and Vilshofen to Prague?
Once you booked a taxi between Prague and Vilshofen, the rate is confirmed, the rate can not increase even if our rates go up
Taxis are insured above standard limits, all taxis have insured passengers' seats and baggage compartment
Credit cards accepted in taxi: VISA, MASTERCARD, AMERICAN EXPRESS (no fees, nor surcharges)
Premium German cars and minibuses: Mercedes Benz, VW, Skoda, BMW
Non smoking and air conditioned taxi cars and minibuses
Economical, comfortable, door to door transfers
Reliable, reputable and personal taxi service
Flexible, time efficient and cost effective
Fixed rates confirmed at the time of the taxi booking
24/7 support in English on phone: 00420 775 744 447
Free taxi cancellation with a minimum 24 hours notice
Well recognized and recommended on the TripAdvisor
Prague and Vilshofen taxi - cars and minivans - transportation price list
Pricing, inclusions, conditions
transportation from Vilshofen to Prague or Prague to Vilshofen one way - final price is 226€ / Mercedes VITO or a regular car, 266€ / Mercedes Benz E class / Viano
all listed prices are final rates - no hidden extras, surcharges or taxes, we do not charge any extras, when you pay by a credit card
waiting is charged only during the time, when you are arlready in Vilshofen and the vehicle is waiting for you to return
price is per whole vehicle and whole journey (you do not pay for the car to return empty to its city of origin)
private transfers - you do NOT share with other passengers, the vehicle is booked solely for your party
tip for the driver is not included and is completely voluntary
booking, cancellation and payment policies in detail. (opens in a new tab)
How long does it take to drive from Prague to Vilshofen?
The distance to drive Prague
Vilshofen is approximately 240 km
Average travel time is 3 hours 31 minutes

Booking a taxi from Prague to Vilshofen / taxi from Vilshofen to Prague
Transportation bookings are accepted with minimum 24 hours notice. Should you need to book the transfer with shorter notice, please call Martin: 00420 775 744 447 or send an email.
Prague - Vilshofen Transportation
We specialize on private and comfortable transfer between Prague and Vilshofen (from Vilshofen to Prague as well as from Prague to Vilshofen). We are ready to collect you from any cruise company ship: Avalon Waterways, AmaWaterways, Uniworld River Cruises, Gate 1 Travel, Tauck World Discovery, Collette Vacations, Trafalgar, Globus, Viking River Cruises, Scenic Tours, Abercrombie & Kent, CIE Tours or General Tours. Of course we also transfer between Prague hotels and Vilshofen Hotels.
In addition we are capable of private door-to-door transfers between Vilshofen and Munich, Cesky Krumlov, Linz, Salzburg and Vienna. Should you require more details on custom transfers between Vilshofen and other cities, write us an email.
It is also possible to organize sightseeing transfers between Prague and Vislhofen via Cesky Krumlov, Regensburg or e.g. Amberg with further options to stop in Pilsen, Ceske Budejovice, Holasovice, Hluboka nad Vltavou or castle Karlstejn, chateau Zbiroh or glass factory Nizbor.
Customers that traveled between Prague & Vilshofen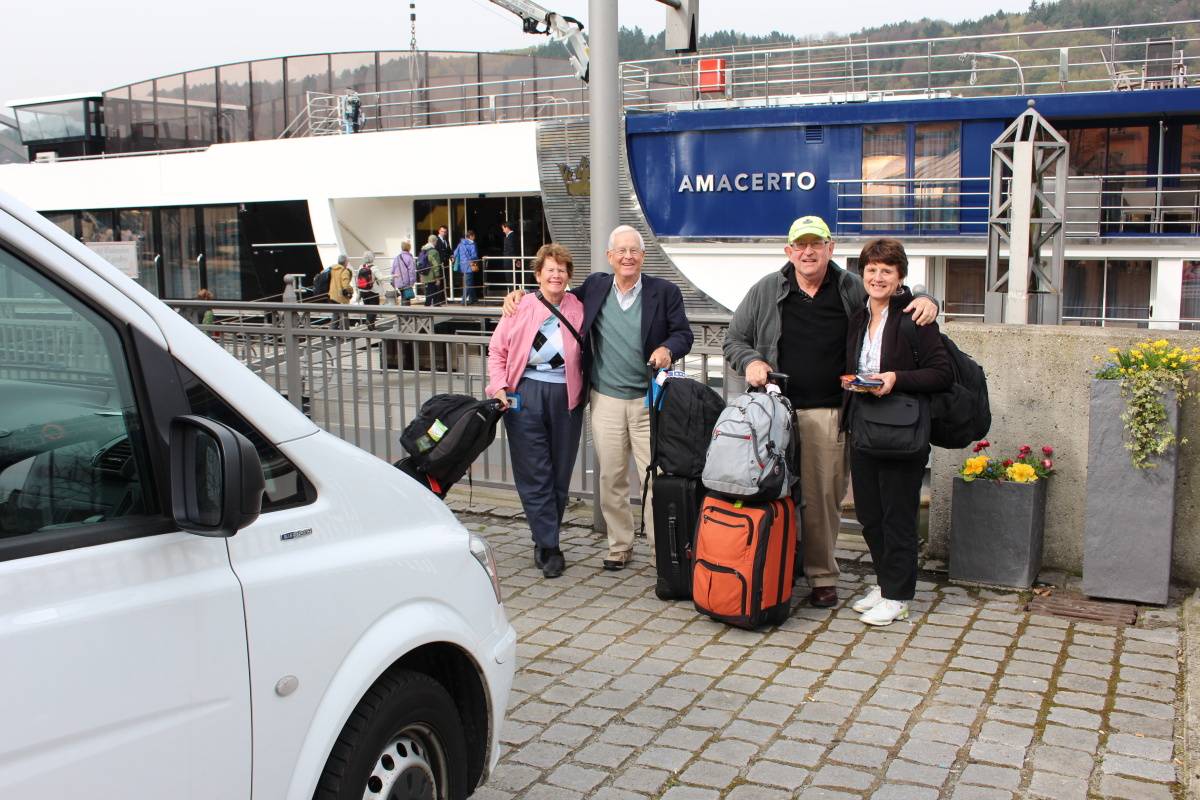 Dear Martin, thank you for the great transportation from Prague Hotel Pachtuv Palac to Vilshofen AMA Waterways docks. The transfer was flawless, car was clean and driver super polite. We are going to recommend your Vilshofen car service to all our friends! All the best - Richard, USA
Read more reviews...